The SilverFire® Super Dragon is an electric wood burning stove that gives you enough control for a gourmet meal. It can also become a battery operated stove making it a perfect emergency preparedness stove stove. A quality electric wood burning stove!
Introducing the SilverFire® Super Dragon, a turbo charged fan stove designed for outdoor use and well ventilated spaces!  This forced air fan stove is the super Chef cooking stove.  It is much faster than many LPG or electrical cooktops. TheSuper Dragon is a top lit updraft gasifier (TLUD) powered by twigs, yard scrub, or any flammable biomass (why buy fuel?).  TLUD's stoves feature a batch fed combustion chamber.  It is simple to operate.  Insert vertical positioned fuel into the combustion chamber; next place a little tinder on top and light!  To fine tune your flame adjust the primary & secondary air control knob on the stove.  The knob controls secondary and primary air flow through mechanical orifices, designed in the fan housing.  No electronic parts to fail, except possibly the commonly available and durable 12V (0.48A) blower fan.  Super Dragon's operate somewhat like a LPG gas stoves. 
A 110-volt AC adaptor comes with every stove, a concentrator ring, and a cast iron trivet with pot supports. This stove is designed for large volume pots. In addition to the AV/DC option, the small fan easily runs off any 12 volt DC battery pack or small portable solar panel. Combustion in the Super Dragon produces minimal emissions, if using dry fuel. The only residue left is minute fine ash, due to the efficient combustion.
We also have an optional pulse width modulator for extremely finite fan control. This is the preferred option where absolute temperature control is required. In addition to the pulse width modulator, we also have a 12 Volt cigarette lighter cord (13 foot cord) for vehicles or 12 volt portable battery packs.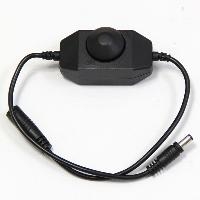 Another option is the 12 Volt Cigarette Lighter Cord for Super Dragon. This handy cigarette lighter adapter is perfect for field use using your vehicle or a battery pack to power your Super Dragon fan.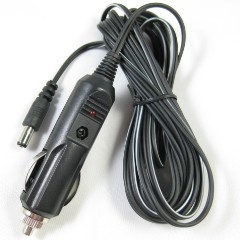 *Both options are availible for purchase in cooking catagory   
Primary air passes through your fuel as it combusts in the combustion chamber and becomes carbon monoxide gas.  The carbon monoxide gas is then burned and mixed with the preheated secondary air, above the fire.  The secondary air combustion, combined with the fan burns extremely clean and appearance is much like a gas stove. The end result of your biomass fuel is to produce small traces of ash, soot, and bio-char.
Super Dragon Specifications:
Cooking Fire Power:  ≥ 1.5 KW
Thermal Efficiency: ≥ 35% (StoveTec/EcoZoom 30%)
Emissions Concentration (smoke):  ≤ 25mg / m3
SO2 ≤ 20mg / m3
NOx:  ≤ 120mg / m3
CO:  ≤ 0.1%
Input Power:  AC 110 volt, DC 12 volt / 0.48A (≤ 6W), or 13 Watt Solar Panel
Stove Weight:  16.7 lbs. / 7.59 kg
Super Dragon Carton Weight:  19.7 lbs. / 8.95 kg
Stove Dimensions:  12" square x 16" tall  / 30.5 cm x 40.6 cm tall
Double Boxed Shipping Carton Weight:  23 lbs. / 10.45 kg
Shipping Box Dimensions:  14" square x 18" tall / 35.6 cm x 45.7 cm