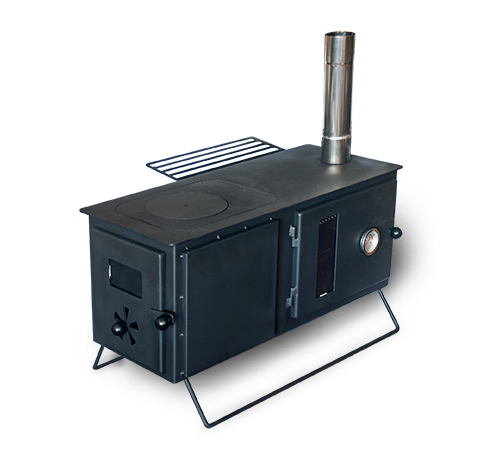 Unfortunately, the portable tent stove market is saturated with inefficient primary combustion tent stove designs that haven't changed in decades (high in both emissions & fuel use). While cleaner burning residential stoves have been rapidly improving and inefficient designs have been regulated by the EPA and outlawed due to high emissions and pollution.  Unfortunately the tent market never changed, offering the same dirty burning stoves they have for decades.  We did something about it. 
This is a new disruptive technology in the tent stove sector. The Multi Function Tent Dragon is the World's first multi option tent stove offering efficient re-burning of the wood gases (clean, secondary gasification) to insure a clean burn and low fuel use.  This is the first  with multiple application tent stove providing high fire power frying, low fire power simmering, baking, grilling, heating water and heating in one unit!  This translates to the first clean burning portable tent stove that was not only designed for low emissions and low fuel use, but for multiple cooking functions. But that's only the beginning of this amazing new tent stove.  For starters you notice the tent firebox features a glass window to view and enjoy the flame and a bake oven viewing glass.  It gets better.This portable unit has folding legs, that retract and fold under stove for a compact footprint for easy transportation.  The stove has an adjustable primary ventilation dampner on firebox door and 2 rows of continuous steady state secondary ventilation positioned at the top of the firebox.  A small aluminum baking pan pan is easily accessible slipped below the firebox grate for easy ash disposal.  The 11 gauge heavy steel (1/8″) cooktop has a traditional 5 & 7/8″ round cooktop cut out for high firepower frying, boiling, and woking for use inside or outside the tent.  A larger rectangle cut out in the cook top allows the  7 & 3/4″ x 10 & 1/2″ grill insert (included) to be used when bed of embers are established to grill outside the tent. The oven rack is the grill rack and stores inside the oven when transporting along with the additional oven baking pan.  The right rear of the stove has a 10 & 1/2″ wide x 9 & 1/4″ x 7″ tall baking oven.  A removable 2 quart / 2 Liter capacity stainless steel hot water tank with brass spigot is mounted to the rear of the left .  An additional 12 & 1/2 x 6″ deep food or bun support rack rests above the hot water tank.  6 sections of chimney come with the stove with a spark arrester on top.  First photo shows stove displayed with only 5 sections due to showroom ceiling height.  The chimney extends 89 & 5/8″ above stove's cooktop surface.In summary, the Multi Dragon provides more options than any other tent stove on the planet, if performs the following functions:* Space Heating (Includes 6 Stainless Steel Chimney Sections)* Bakes (Viewing Glass and Temperature Gauge on Oven Door) * Boil, Fry, or Wok (High Firepower Cooktop Cutout)* Low Firepower Cooking (Reverse Rectangle Cut-out)* Outdoor Grilling, with Grill Rack* Provides Hot Water (2 Quart / 2 Liter Capacity Stainless Steel Water Tank)* Viewing Glass and Primary Ventilation Dampner Control on Firebox Door* Steady State Secondary Ventilation Insuring  Efficient  Clean Combustion* Sustainable Clean Burning Combustion & Utilizes Minimal Fuel* Portable Tent Stove Package Cooktop is 11 Heavy Gauge Steel to Insure Long Stove Life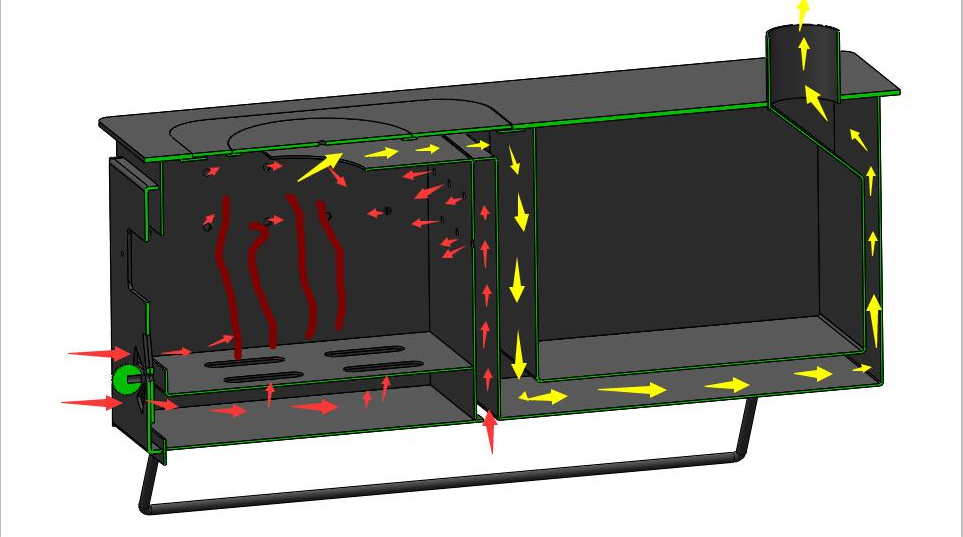 Another SilverFire Clean Burn Stove Design!Dimensions with chimney housing and protruding stove knobs (minus water tank, side mounted food tray & folding legs retracted):11 & 3/4″ wide x 25 & 1/2″ long x 12″ tall The food tray and water tank extends stove width of stove to 17 & 1/2″ x in width.  The leg width is 1& 1/2″ wide x 22″ login the support position.The oven compartment is 10 & 3/4″ wide x 9 & 1/4″ deep x 7&1/4″ tall.The modular stainless steel chimney sections are 89 & 5/8″ total height from top of cooktop surface to top of spark arrestor.  The Chimney OD is 6 cm or approximately 2 & 1/4″ in diameter. The stainless steel thin wall stove pipe is easily manipulated if it is out of round, if dropped or stepped on.  Simply insert round tube (dowel stick, pipe, etc…) and re-shape female bell in clockwise or counter clock wise rotations.  Never use pliers, you'll ruin the shape of the chimney wall construction.  You may choose to wear gloves handling chimney pipe assembly or disassembly.  All chimney pipe suppliers recommend gloves to prevent cutting fingers when handling thin walled chimney pipe edges, which can be sharp.All our our SilverFire stoves can be top lit or bottom lit. We find top lighting the stove is most efficient, cleaner and easier than bottom lighting our stoves. The fuel pile can burn downward like a candle and it is easier to light in this fashion. Simply take stove fuel (small logs, kindling, etc…), and place in combustion chamber with smaller tinder on top. Top light tinder, its that easy.Some folks prefer to take a little pellet gel, alcohol gel and squirt in small amounts to establish the flame. Others prefer tack cloth, impregnated cotton balls, char cloth and other fire starters. What ever you are comfortable with is fine. Lots of fire starters and techniques out there.We occasionally are questioned about coal, in addition to biomass for fuel. Coal burns very hot and the stove was not designed for coal. Although coal could be lit and placed in stove, it has the potential to fatigue the stove metals and potentially shorten stove life. Coal is higher in volatiles, pollution, and CO. We do not recommend coal or charcoal in stoves to insure as long a stove life as possible.
The stove is a rugged 50 lb of heavy gauge metal plate.  The thermal mass of a stove this size typically are rated for heating larger tents, tipi's, yurts, or spaces such as 10′ x 12′ wall tents, or 12′ x 12′ Peak tents down to -30 degrees Fahrenheit.  Warmer climates mean larger size tent heating capabilities.  Heating ratings are dependent on ambient temperatures, season, moisture content, humidity, and wood fuel type variables.  The secondary gasification firebox with baffle allows for a smaller foot print design due to greater efficient combustion.  The dimension is:  9 & 1/4″ wide x 10 & 1/4″ deep x 7 & 3/4″.