Mission Darkness™ Dry Shield Faraday Tote 15L
NEW The Mission Darkness™ Dry Shield Faraday Tote 15L is the weatherproof, waterproof, and signalproof bag for data protection and EMP protection!
FREE SHIPPING THROUGH SEPTEMBER!
$90.00
Description
About the Dry Shield Faraday Tote 15L:
The Mission Darkness™ Dry Shield Faraday Tote 15L completely blocks all wireless signals and keeps midsize electronic devices shielded to prevent hacking, tracking, spying, and chain of custody corruption. When a device is properly enclosed in the bag, no apps or malicious code can be remotely triggered or wiped, no communication can penetrate, and no one can access the microphone, camera, GPS location, or data. Primary uses are for law enforcement and military forensic evidence collection, defense against data theft, personal security, EMP protection, EMF radiation reduction, and to enhance digital privacy.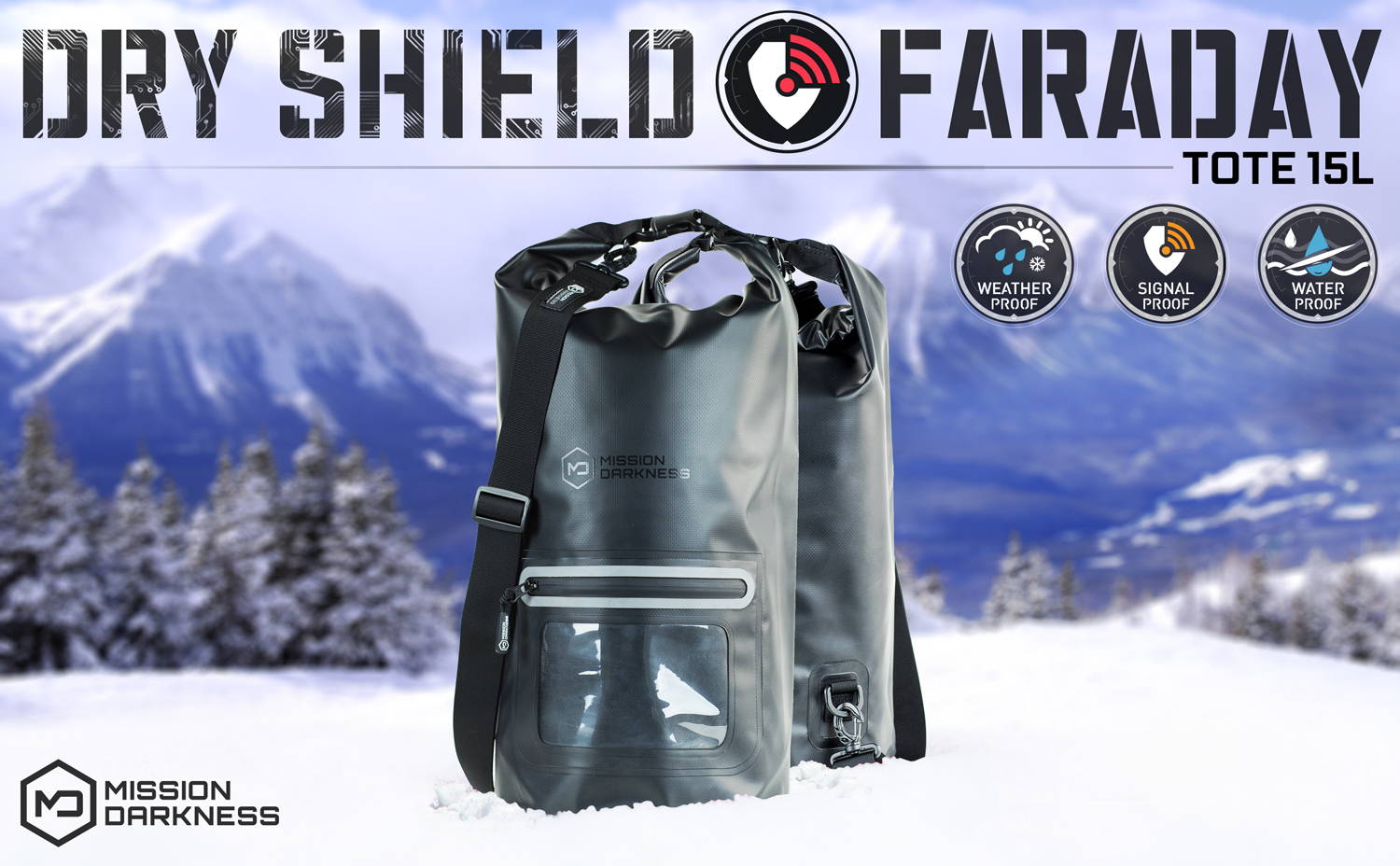 The bag is built with a durable and waterproof 500D PVC outer material and two layers of high-shielding TitanRF™ Faraday Fabric on all interior sides with dual paired seam construction. It includes an adjustable and detachable strap for carrying over the shoulder or attaching to structures. The large interior space can easily fit multiple laptops, radios, cell phones, tablets, and accessories. A waterproof unshielded zipper pocket on the outside allows you to keep frequently used small items or devices (like cell phones) accessible and online when needed, and also doubles as an agency branding compartment. Electronics enclosed inside are guaranteed to remain dry and offline in any water-surrounded location.
Features:
Military-grade faraday dry bag designed for law enforcement forensic investigators and armed services to shield electronic devices from RF signals, also used for executive travel, personal data security, and EMP protection
Commonly used to shield a laptop, multiple tablets, cell phones, radios, and accessories
Extremely durable and waterproof 

500D PVC outer material

Rain, snow, sand, dirt, and contaminant proof
Roll top dry bag closure method with side buckles
Two layers of high-shielding TitanRF Faraday Fabric on all interior sides with dual paired seam construction (TitanRF Faraday Fabric is lab tested and certified to shielding effectiveness standards MIL STD 188-125 and IEEE 299-2006)

Blocks WiFi (2.4 & 5GHz), Bluetooth, cell signals including 5G networks, GPS, RFID, NFC, and radio signals with 90dB average attenuation from low MHz to 40GHz

EMI, EMR, and EMF shielding

Each bag is uniquely serialized to assist with asset tracking and evidence chain of custody

Load-bearing adjustable and detachable shoulder strap built into the side of the bag for heavy objects and easy carry
Unshielded, waterproof, clear front zipper pocket
15-liter capacity
Folds flat for transport and storage

Test your Mission Darkness item with this FREE app:
MD Faraday Bag Tester (for iOS)
MD Faraday Bag Tester (for Android)
Downloads and Specs:
Internal usable dimensions when closed: 17″ x 9″